Out of stock for foreseeable future due to production constraints.
For some foods you need very finely ground flour, other recipes require very coarse ingredients. With the adjustment bar, you choose your desired fineness with a hand movement and without much effort. A brush integrated into the grinder sweeps the octinals clean during the grinding process. hawos Oktini is a grain mill that you can use to grind all types of grain in common household quantities (eg rice, amaranth, emmer, kammut, wheat, spelled, millet, even corn or soybeans).
A powerful industrial engine ensures that your Oktini operates quietly and powerfully even under heavy loads. Ideal for left-handers too!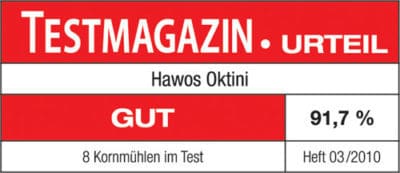 In the test: 1x very good, 6x good, 1x satisfactory (winner: hawos Oktagon 1)
Specs
Housing
Beech full wood
Grinding capacity for (wheat)
-fine
-corse
ca. 100 g/min
ca. 250 g/min
Hopper capacity (wheat)
ca. 650 g
Grindstone ø (corundum ceramic stones)
70 mm
Weight
6,6 kg
Motor output
360 W
Mains voltage
230 V
Height allowance for bowls
11,5 cm
Footprint (W x D x H)
190 x 190 x 335 mm
Surface treatment
Linseed oil varnish
Security Sign
Guarantee
10 Years
Special features
One-hand operation
Note for allergy sufferers: All hawos mills are quality tested using gluten-free grains.