Folding Proofer & Slow Cooker
The Folding Proofer & Slow Cooker has improved upon all the beloved features of the standard Folding Proofer and adds a Slow Cook mode. Both modes can be used continuously (for weeks even!) giving you a range of temperature between 21-90º C depending on your requirements.
Enjoy delicious one-pot meals using your own favourite Dutch oven or pot. Bread bakers will love the accurate, humid, low temperature control in Proofer mode perfect for rising and fermenting yeast bread dough or sourdough. Making yogurt in your own containers, melting chocolate, slow roasting black garlic or culturing a wide variety of probiotic fermented foods such as kombucha, tempeh and kefir are just a few of the applications of this unique appliance. Best of all, it folds flat in seconds for easy storage.
Slow Cooking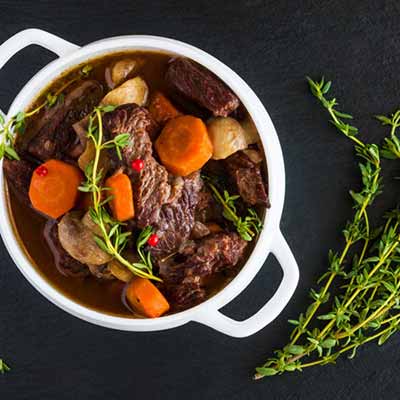 One Pot Slow Cooking.
Convenient space-saving desig.
Your favorite pot is now your favorite slow cooker.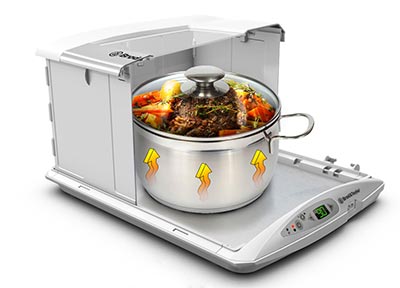 Proofing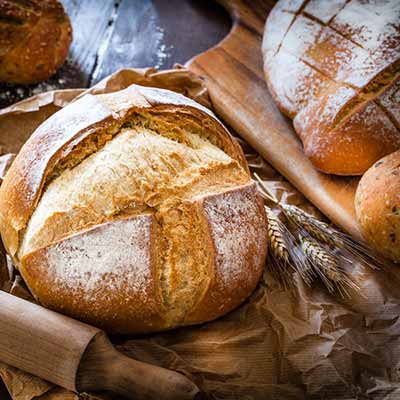 Breadmaker's Dream Machine.
Accurate temperature control. Consistent humidity.The consistent low-temperature warmth is perfect for breadmakers.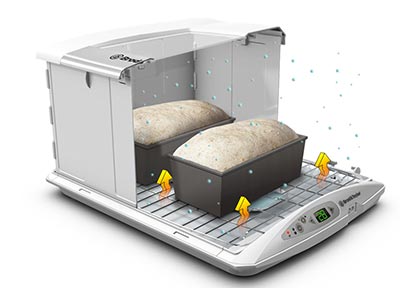 Culturing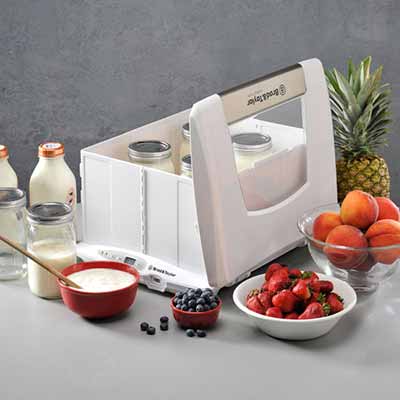 Culture Perfection
Ultimate solution for fermenting and culturing. Explore a new world of fermented foods from kombucha to tempeh.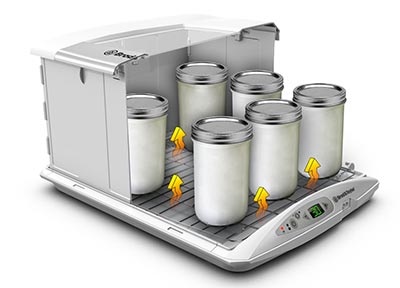 Ingenious Design
Folds Flat for Storage
Spacious enough to hold several loaves of bread, an 7,5 Litre stock pot or 9 Litres of yogurt, yet folds down flat for storage in seconds. Fits in a kitchen drawer or pantry with sheet pans and cutting boards. Rack and water tray store inside when closed.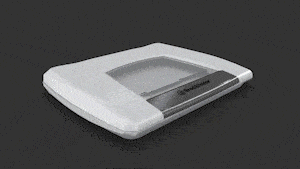 Specifications
Temperature range: 21-90º C

Anodized aluminum heating plate

Stainless steel wire rack

Aluminum water tray (typical humidity 60-80%)

Reinforced polypropylene body, large viewing window

Instruction Manual with Recipe Booklet
Dimensions
Interior (open) WxDxH: 38 x 32 x 20 cm (21.5cm high without rack)
Exterior (open) WxDxH: 46 x 37 x 27 cm (18″ x 14.5″ x 10.5″)
Exterior (folded) WxDxH: 46 x 37 x 8 cm (18″ x 14.5″ x 3″)
Weight: 4.3 kg
230V, 60Hz (200W)
Model Information
Model FP-205 Folding Proofer & Slow Cooker replaces the FP-201 Folding Proofer. The FP-205 retains and improves upon all the beloved features of the FP-201 and now also comes with a Slow Cook mode.
See FAQs for more information.
Storage: Rack, water tray and proofer walls fit inside Folding Proofer for storage.
Power Cord: UK power cord (removable).
How it Works: Proofer Mode
Accurate Low-Temperature Warmth for Bread, Yogurt, DIY Superfoods, and Tempering Chocolate
The Brod & Taylor Folding Proofer creates an environment of consistent low-temperature warmth that is vital for many kitchen processes. Gentle and consistent radiant heat rises from the aluminum base plate. Digital temperature controls provide settings from 21–49C.
A thermostat in the base of the Proofer controls the heat within a narrow range, making the Proofer much more consistent than yogurt makers, dehydrators, or ovens on proof settings. Food is warmed with radiant heat from the base and is generally stable within several degrees.
Proofer Mode – Humid
For rising bread, humidity may be increased by using the included water tray (typical humidity is 60-80%).
Proofer Mode – Dry
The Brod & Taylor Folding Proofer used in Dry Mode is best for making yogurt, chocolate, butter, tempeh, kifir, kombucha, sour cream, creme fraiche, cheese, and natto. Simply remove the water tray and place containers on the rack above the heating plate.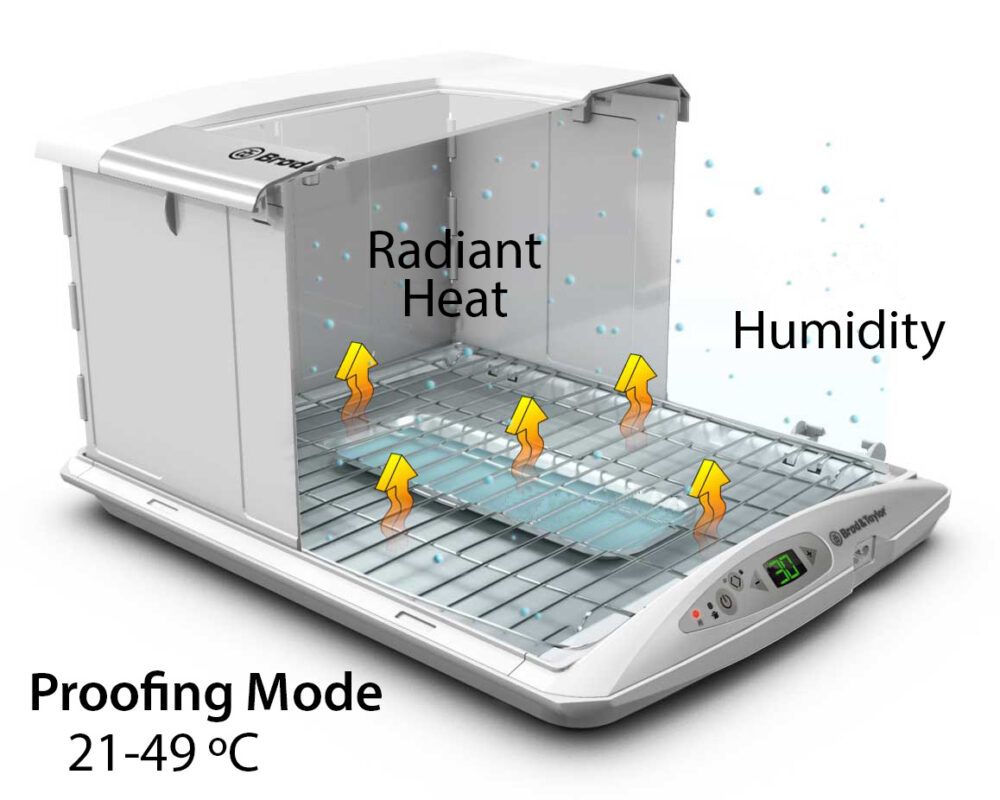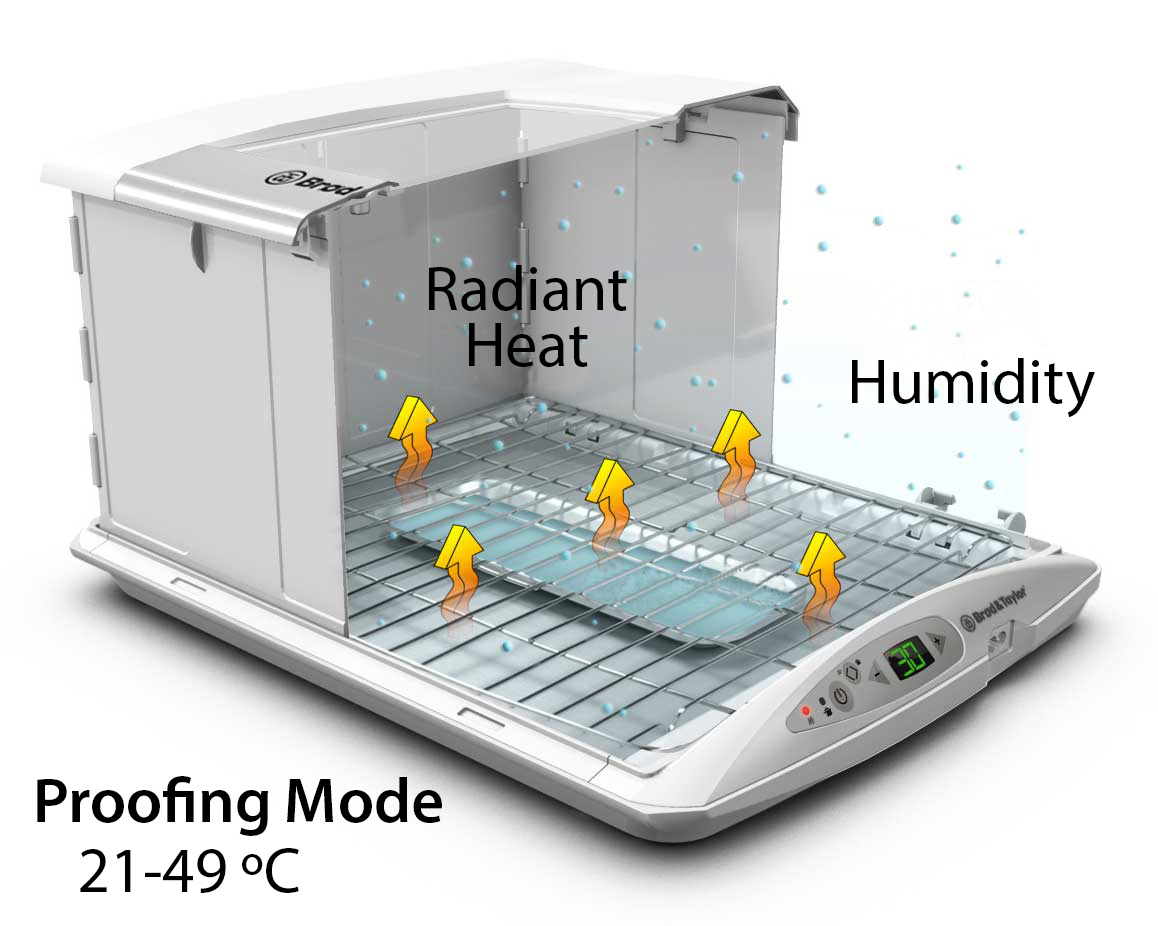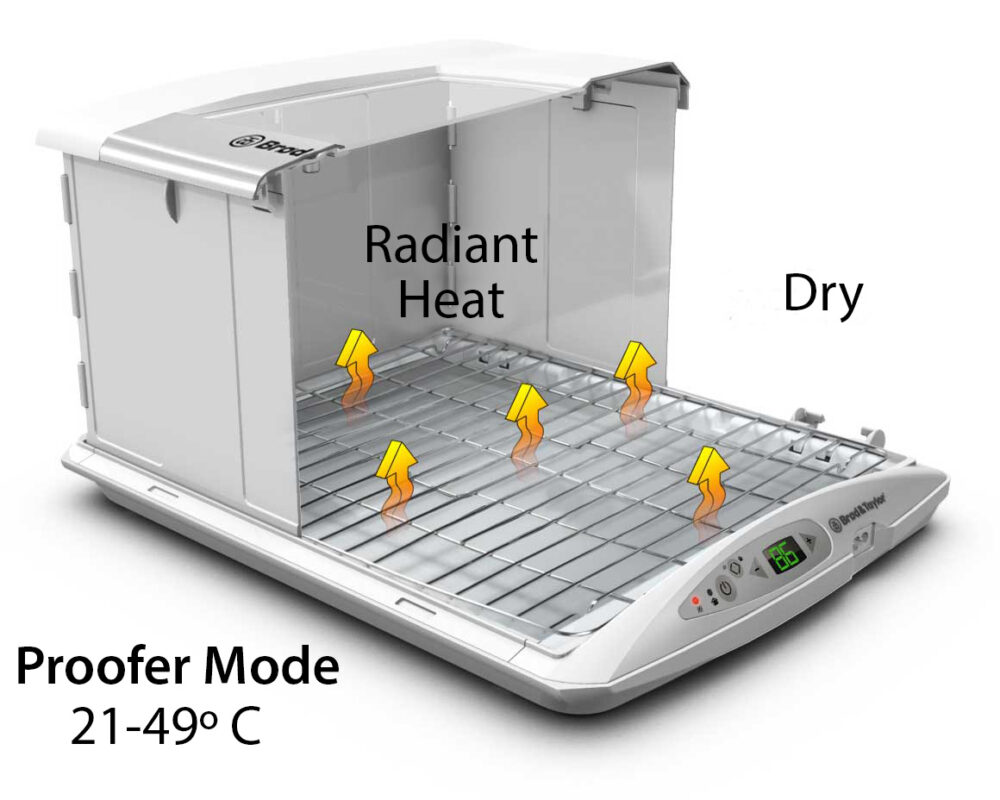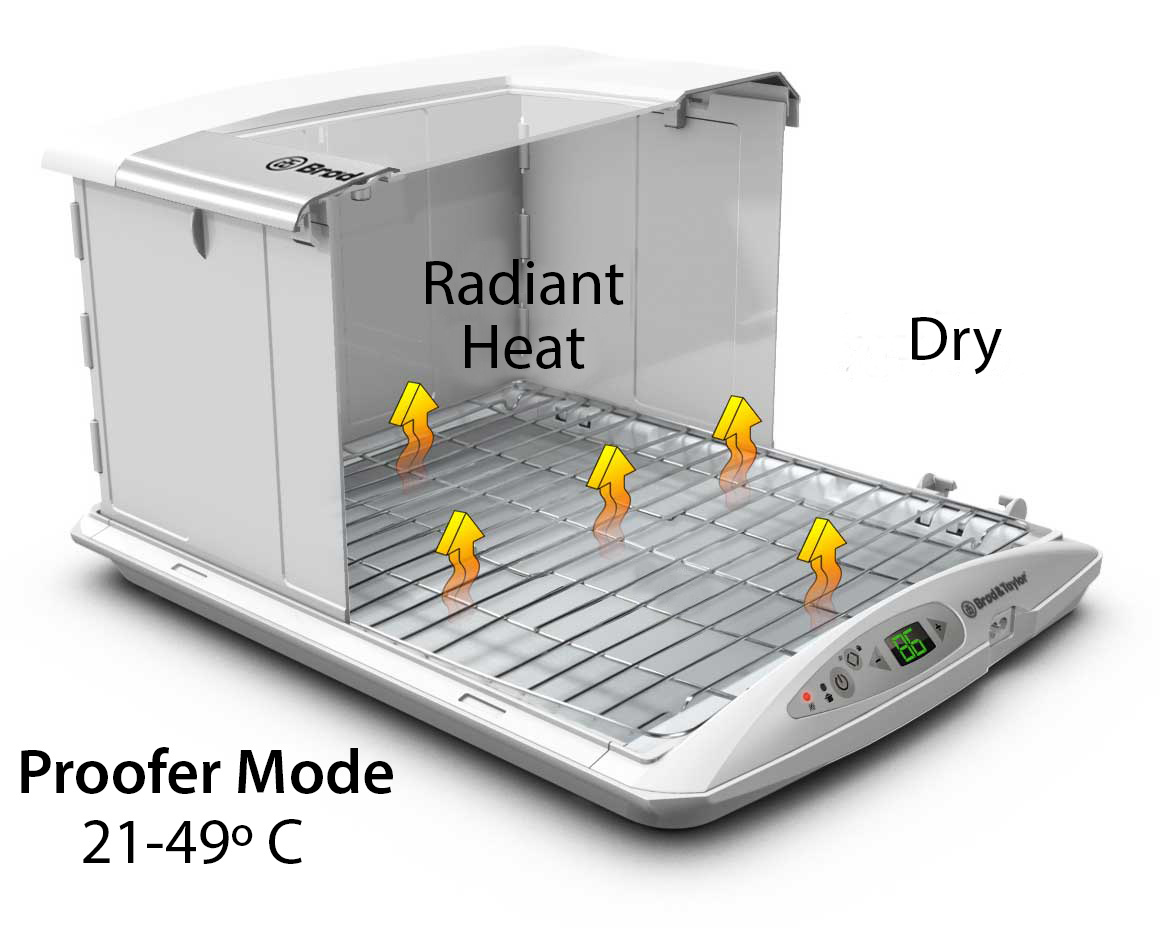 How it Works: Slow Cooker Mode
The first slow cooker in the world: Folds down to just 8cm thickness!
The Folding Proofer & Slow Cooker used in the Slow Cook Mode is best for traditional slow cooking, making black garlic, and sous vide cooking. Simply place your metal covered metal pot directly on the heating plate.
For slow cooking in the Proofer both the rack and the water tray are removed. Set the temperature on the digital panel according to what is specified in the Brod & Taylor recipe you are preparing.
Brod & Taylor Slow Cooking Recipes