The Ultimate All-in-One Appliance
Commercial grade power and incredible versatility combine to bring you the Blendtec Classic Total Blender, the ultimate all-in-one appliance. Pre-programmed cycles make it easier than ever to create smoothies, salsas, hot soups, and more.  The Total Blender Classic® (V1) is the iconic original that took the blending world by storm!
The Version 1 of the Total Blender was replaced with the Version 2 in 2018.
The V2 has runs quieter and has a new touchpad interface with round icons rather than words on square icons to make it easier to identify the desired blend cycle.
Certified Refurbished
Our refurbished machines are independently certified by the authorised Blendtec distributor and are meant to provide customers an unbeatable product quality at a very affordable price.  Our refurbs have undergone a complete internal overhaul to ensure the unit will last for years to come. The plastic motor base housing may show signs of wear and tear.  Each refurbished motor base comes with a new WildSide+ Jar.  Both the motor base and the jar come with a 3 year warranty.
Features include:
3.0 peak horsepower motor
Touchpad interface for easy cleaning
Six Pre-programmed cycles: Eis Cream, Milkshake, Soups, Dips, Whole Juice, Smoothie
10 incremental speeds + Pulse
Illuminated LCD timer displays remaining time on blends
Power cord: UK Plug
Height x Width x Depth: 38,1 x 17,8 cm x 20,3 cm
Weight: 3.3kg
1560 Watt, 230 V.
3 Year Warranty for household use.
Preprogrammed Cycles
Duplicate your favourite restaurant's smoothies and mixed drinks at home! The Blendtec Classic Total Blender features 6 pre-programmed cycles that creates the perfect blend every time.
Ten-Speed Precision Control + Pulse
The Blendtec Classic Total Blender's ten manual incremental speed cycles allow you to completely customise the consistency of your blend. Switch between each 50-second setting mid-cycle for the ultimate in customisation, or press the Pulse setting for a surge of blending power.
Total Blender V1 Touchpad


Total Blender V2 Touchpad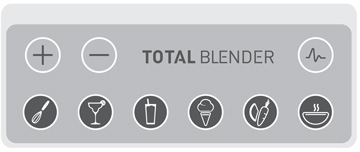 Click here for more information on the cycles
ICE CREAM / FROZEN YOGURT
This cycle is designed specifically for frozen treats, including ice cream, sorbets, and frozen yogurt. The cycle speeds up and slows down at the appropriate moments to ensure your blends stay frozen. To use the Frozen Treats cycle, load your jar as indicated in the recipe you are using, secure the lid, and press the Frozen Treats icon. The blender will run the cycle and automatically shut off. After creating your frozen dessert, serve immediately and store leftovers in the freezer.
SOUPS / SYRUPS / FONDUES

This cycle is designed for hot recipes. The cycle's length of time, combined with the speed of the motor, heats the ingredients to a hot temperature. This cycle can also be used for hot chocolate, syrups, and fondue. When using fresh ingredients, remember that the speed of the blade generates enough heat to warm the ingredients. Do not add any liquids or ingredients over 46º C (115° F) to the jar when preparing soups or hot items.
SAUCES / DOPS / DRESSINGS / BATTERS
This cycle stays at relatively low speeds for shorter periods of time. This combines your ingredients gently, allowing the flavours to blend together properly, without over-mixing.
WHOLE JUICE

This cycle is designed to completely blend tough and dense ingredients, including carrots, celery, and seeds. Use the Whole Juice cycle if you are using any fruits and/ or vegetables with stems, seeds, or skins. When blending carrot juice or other dense juices, you may need to repeat this cycle once or twice until the desired texture and consistency are achieved.
SMOOTHIE
This cycle is designed specifically for various types of smoothies and thick drinks that frequently use dense or frozen ingredients. It slows down and speeds up automatically during the course of the cycle. This allows the blender to draw the ingredients into the blending vortex, creating the desired texture.
PULSE
The Pulse function is used for chopping, mincing, whipping, or other momentary tasks that do not require a long blend cycle. You can also Pulse to quickly stir a blend before serving. The Pulse setting runs at speed 7 and will only run while the Pulse icon remains pressed. When the icon is released, the motor shuts off.
INCREMENTAL SPEEDS
The Classic Total Blender comes with ten incremental speed cycles that allow you to completely customise the consistency of your blend. Each manual cycle runs for 50 seconds before switching off.
You can switch to a different speed at any point during the cycle. To stop the cycle at any point during blending, press Stop.