Drying with Stöckli dehydrators is the most natural and easiest way to preserve fruits, vegetables, mushrooms and herbs. Dried foods retain their high nutritional value and are therefore not only tasty, but also very healthy. Dehydrator with easy-care plastic housing, stepless temperature adjustment and active warm air circulation. The different drying times for the respective dehydrated foods are stamped on the transparent cover.  The LED lights up when heating is in operation. Including three drying racks as standard. Made in Switzerland. Capacity: the device can be operated with up to ten drying racks. Instructions for use: German, French, Italian, English, Dutch.
Technical data: 230V, 540 W, S + / CE tested. 2 years manufacturer warranty.
Dimensions: Ø 33.5 cm, height: 27.5 cm
Drying Racks:
Stainless steel version: transparent plastic frame and fine stainless steel mesh (plastic material: SAN and ABS)
White plastic version: White plastic frame and coarse mesh made of plastic mesh (plastic material: SAN & PP)
Large Capacity
All dörrex dehydrators allow even drying on up to ten drying racks stacked on top of each other. The cleaned, dabbed and mostly sliced dehydrated foods lie on top of it. In the case of very juicy dehydrating goods, such as vegetables or some fruits, the use of a silicone insert is recommended. This is also available here from us. This is the easiest way to dry fruit, vegetables and herbs.
Best drying results thanks to active warm air circulation
The secret to perfect drying lies in the constant circulation of warm air.
It enables even drying on round drying grids stacked on top of each other.
There is a low-noise fan in the lower part of the housing. The temperature can be continuously adjusted between 20 ° and 70 ° C. A gentle air flow dries the dehydrated material evenly from all sides.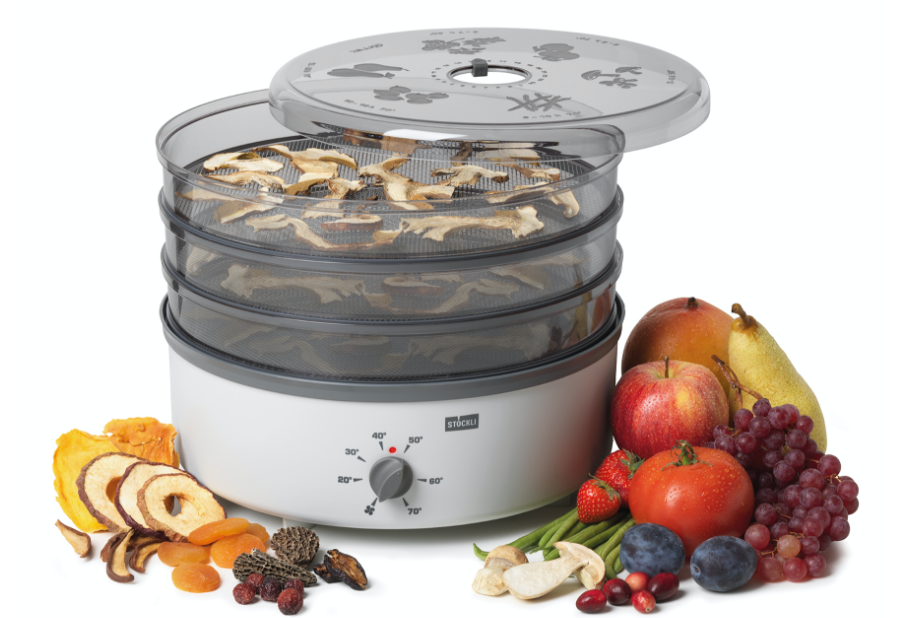 Swiss Made
All Stöckli dehydrators are SWISS MADE. This means that they are manufactured in-house in Switzerland. Both racks are very rugged and easy to clean. The close-meshed metal mesh is also suitable for drying small-leaved herbs. You can choose between models with and without timers, with mesh made of plastic or metal.

Practical Accessories
Have you seen the silicone inserts? These are placed on the dehydration racks and are particularly suitable for dehydrating juicy foods. Tomatoes, plums or mangoes can be dried much easier this way. This insert ensures that the juice of the drying goods does not drip through the mesh. The small holes still guarantee optimal circulation of the warm air and thus all round successful drying.