The Angel Juicer commercial range is perfect for when you need that extra bit of volume.  They are ideal for juice bars, hotels, kitchens and canteens.  Each unit is available with a crusher section that is installed before the juicing augers.  When it comes to value for money, the commercial Angel Juicers are the clear market leader.  Especially the high extraction rate per kg of raw ingredients can increase profits by thousands of £££ per month depending on the number of hours in operation per day thanks to the patented 3-stage juicing technology.  This increased profitability, minimal waste and high operating efficiency and dependability make the commercial Angel Juicer the natural choice for many hotels, bars and small juice manufacturing businesses.
The model numbers state roughly how many kg of carrots can be processed per hour.
The 20K can process around 20kg of carrots per hour.  Vegetables of course produce a lot less juice than fruit and you can adjust the yield with the pulp-screw.  At the bottom of this page you'll find a rough guideline as to how many ml of juice you typically get per kg when juicing.
Other model identifiers:
You may also find designations online for these machines such as 20K-GS where the "GS" is simply an old terminology used to distinguish between old and new model.   When purchasing from us, you will always get the newest model – guaranteed.
The 20K is also known as the AG-10000, the 60K is known as the AG-20000 and the 140K is known as the AG-30000 in case you've seen these figures somewhere.
Crusher or no Crusher?
These commercial juicers are designed for high volume juicing, operated by just a single person who feeds the ingredients into the chute and, depending on ingredient, guides or pushes the ingredients into the augers/twin gears using the pusher.
If you only juice for a few minutes or juice small or soft ingredients such as leafy greens or berries, then that's a very easy task as the twin gears practically suck the ingredients in.
If you however juice harder ingredients you will want to be pushing these down into the twin gears for highest output per minute which means fatigue can set in with the operator as their arms get tired over time.  This fatigue results in reduced overall output per minute and thus increases staffing costs.  To solve the issue of fatigue, the crusher essentially takes over the majority of the work of the wooden pusher.
The crusher also reduces the need to chop certain foods before juicing as you can feed larger pieces in at a time due to the ease of use, incl. carrots that are too large for normal retail sale and thus much cheaper to buy.  These crushers chop and crush the ingredients before being passed into the augers/twin gears which makes juicing easier on the user, reduce the possibility of blockages and increases juice yield.
Please note that the commercial Angel Juicers are much larger than the domestic units.
High Quality
The Angel Juicer is made entirely of stainless steel
Clean and stylish appearance
Trustworthy
Angels are reliable, sustainable and easy to maintain
Twin auger technology
Yield
The brushless motor runs at 85 rpm for very high yield rates
70-80% vegetables juice extraction
80-90% fruit juice extraction
Excellent efficiency
Angel juicers have proven to produce up to 30% more juice than other slow juicers
No toxins
Only 100% BPA Free materials are used
User-friendly
Easy to use, disassemble and clean
Safety features
Built-in thermostat prevents overheating
Model
20K
60K
140K
240K
Also known as:
Angel Mini, AG-10000, 20K-GS
Angel Medium, AG-20000, 60K-GS
Angel Max, AG-30000, 140K-GS
Angel Ultra
Juice Extraction (carrots/hour)
20 kg
60 kg
140 kg
240 kg
Chute Size
upper : 130mm
lower : 49mm
upper : 252mm
lower : 70mm
upper : 329mm
lower : 83mm
upper : 330mm
lower : 103mm
Voltage Options*
220-240 V
110-120 V
220-240 V
110-120 V
400 V
220-240 V
110-120 V
400 V
220-240 V
Herz*
50 & 60 Hz available
50 & 60 Hz available
50 & 60 Hz available
50 & 60 Hz available
Motor
400 W, 0.5 HP
Brushless, 750 W, 1 HP
Brushless, 2200W, 3 HP
Brushless, 2200W, 3 HP
RPM
95 RPM
75 RPM
72 RPM for 50 Hz Countries
85 RPM for 60 Hz Countries
72 RPM for 50 Hz Countries
85 RPM for 60 Hz Countries
Weight
63 kg
120 kg
150 kg
600 kg***
Warranty
12 Months parts & labour
12 Months parts & labour
12 Months parts & labour
12 Months parts & labour
Dimensions (LxWxH)
90 x 29x 67 cm
116x44x139 cm
145x36x132 cm
211x80x147 cm
Material
Fully Stainless Steel
Fully Stainless Steel
Fully Stainless Steel
Fully Stainless Steel
Certification
CE**
CE**
CE**
Pending CE**
* Unless your delivery address is outside the UK, we will assume the unit is intended for the UK and as such would be supplied with 230V 50Hz brushless motor and normal UK power plug.  For use outside the UK, we will discuss please let us know which country and we'll make sure you get the model that suits your electrical grid.
**All our Commercial Angel Juicers comes with a CE rating (required by law within Europe & UK).  If you live outside of Europe, we can provide Angel Juicer units that are not CE certified at a discounted price.
***Please note that the Angel Juicer 240K is an absolute beast of a machine with absolutely staggering performance.  The shear size of it does however make it less easy to handle compared to the other models. Each of the steel rollers/ twin gears weights around 50 kg, has a max. diameter of 11.6 cm and is a massive 105 cm long.  This means that 2 people are needed to disassemble and clean the gears after.
Efficient Juicing
The Angel 20K-GS is a high end commercial juicer and typically can produce 5 litres of juice from 10 kg of carrots in about half an hour.  The slow extraction method results in high yields and very dry pulp as nearly all liquid has been pressed out of it.  Each unit has a pulp regulator to vary the amount of juice you want to get out of each kg of material.
Commercially Orientated Design
All the electronics are located underneath the unit in a box to ensure no juice can get anywhere near it.  The units each have their own integrated circuit breaker, dedicated on/off switch to bring power to the brushless motor & fan, a start button to initiate the augers, a reverse-button and an emergency off switch.  Please note, that if you want to initiate the reverse function, please stop the motor using the control switch, then push the reverse button.
Continuous Running Time
All our commercial Angel Juicers are designed to run continuously without needing any breaks to cool off.  We do however recommend to take occasional breaks to clean the juicing components, especially with high-fibrous foods.  Depending on what you are juicing and how tight you set the Pressure Adjustment Screw, pulp can get so dry that it might start to accumulate and dry inside the juicing chamber.  Our commercial juicer yield rate is an industry leading 70~80% on vegetables so the dryness of the pulp is slightly wetter than the Angel Juicer household models to optimise the yield to component longevity. You can tighten the Pressure Adjustment Screw to increase yield further.  If you tighten the Pressure Adjustment Screw too much, then the much drier pulp can get stuck in between gears and juicing screen much faster than usual and juice won't come out.  If you keep juicing without cleaning the components from time to time you risk pressure building up on the juicing screen which risks damaging it.
Customising the Angel Juicers
The Angel Juicers can get customised as well.  For especially fibrous foods such as ginger, we recommend adding an extra support ring around the juicing screen. This gives it greater strength and increases longevity with these very tough ingredients.  The cost of such an extra ring is £110+VAT. Please get in touch with us to discuss your requirements.
Juicer Overview
Advanced Safety Systems
For safety, a commercial environment, the Angel 20K-GS has a large emergency stop button. It also has a powerful fan to keep it cool throughout the operation, which is especially important if you use this juicer a lot.
What's in the box?
Depending on the model, there are different accessories bundled in with the unit as standard.  We've listed what is included with the 20K Crusher model below.  The 140K for example does not come with 2 large wooden pushers, but instead comes with a single large plastic pusher which is much lighter.
Accessories included with the Angel Juicer 20K Crusher model:
2x juicing screens.  As standard you will receive 1x coarse and 1x fine, but we can also send you 2x of the same at no additional cost.
2x Special 20K cleaning brush
2x Cleaning brushes
2x Premium brushes
1x Wooden pusher
1x Wooden pusher with silicone seal
1x Allen Key
1x Screwdriver
1x Rubber mallet
1x Cleaning knife
1x Bushing replacement-testing tool
1x Bushing installation tool
1x Bushing set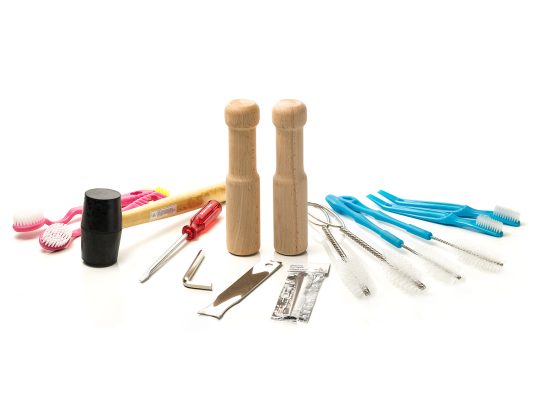 Example image of accessories – included accessories vary by model.
Below you will find typical yield rates for better understanding of which model is best for you.  These are guidelines only and not specific to the Angel Juicer yield rates.
FRUITS
Apples: 570 to 620 ml per kg of fruit
Cherries: 370 to 570 ml per kg of fruit
Cranberries: 240 to 570 ml per kg of fruit
Grapes:  570 ml per kg of fruit
Grapefruits: 9 kg per case of fruit
Lemons: 5.5 kg per case of fruit
Limes: 240 to 310 ml per kg of fruit
Melons: 370 to 570 ml per kg of fruit
Oranges: 10 kg per case of fruit
Papayas: 190 ml per kg of fruit
Peaches: 65 to 190 ml per kg of fruit
Pineapples: 240 to 370 ml per kg of fruit
Strawberries: 240 to 310 ml per kg of fruit
Raspberries: 240 to 310 ml per kg of fruit
Watermelon: 370 to 620 ml per kg of fruit

VEGETABLES
Beets: 370 to 570 ml per kg
Cabbage: 370 ml per kg
Carrots: 570 ml per kg
Celery:  65 ml per 2 to 3 stalks or 500 ml per 1 bunch
Cucumbers:  240 to 370 ml per kg of unpeeled cucumber
Lettuce:  130 to 570 ml per kg depending on the variety you choose. Heavy varieties yield more juice; drier looser-leafed varieties yields less juice
Parsley:  65ml to 130ml juice per three-inch bunch
Spinach:  240 to 370ml per kg
Tomatoes:  570ml to 620 ml per kg
Watercress:  65 to 130ml per bunch
GRASS
Wheatgrass:  130 ml per 240g
Sugarcane:  5.7 L per 1/2 stalk
Which juicing screen to use?
There is a coarse and a fine screen available for the commercial Angel Juicers.  This refers to the size of the holes on the screen.
The coarse screen is also sometimes referred to as the 'soft fibre' screen or the 'wide screen'.  This is because it has wide holes which makes it ideal for soft fruits (such as de-stoned nectarines or pineapple) as well as very fibrous ingredients such as ginger or limes with the skin still on to increase yield without causing blockages.
Videos:
Here are some videos of the Angel Juicer Commercial in operation.

———————————
Before operating the machine
Do not operate the machine with wet hands.
Do not use the machine at in a place with excessive moisture.
Unplug the Juice extractor from the electrical outlet when not in use, assembling, disassembling, cleaning, and removing food or other contents from the juicer (feeding chute).
Avoid contact with moving parts while the machine is in operation.
Carefully read the instruction manual before operating
Operating Instruction
Plug the power cord into a grounded electrical outlet.
Open the Electric Control Box and turn the Main Power Switch to the "ON" position then close the Electric Control Box.
Turn the Power Lever to the "ON" position (located on the front panel of electric control box).
Press the "Start" button to run the motor (do not let the twin gears idle more than 15 seconds).
If the motor stops from a feed jam/overloading press "Reverse" button.
Press the "Stop" button to stop the motor.
How to disassemble & Clean the machine
Let the machine run for about one minute to get rid of excess feed/juice.
Press the "Stop" button and then switch the power lever to the "OFF" position.
Open the Electric Control Box and switch the Main Power Switch to the "OFF" position.
Close the Electric Control Box.
Unplug the Juice extractor from the electrical outlet before disassembling and cleaning.
Remove the housing cover
Unscrew the butterfly nuts on both sides and release the latches Remove the screen housing (in case the screen housing does not release easily, turn the power switch ON/OFF one or twice then it will be released smoothly).
Remove the twin gears.
Clean the screen housing with the cleaning brush under running water (do the same with the twin gears).
Dry with clean towel and then air dry the parts.
We do not recommend to wash the parts in a dishwasher. The plastic bushings can potentially deform in the high heat found in dishwashers.
How to Assemble the Gears
First, Insert the Driving Gear through the Driving Gear Shaft. Please Note! Slowly slide the driving gear through the driving gear shaft, but do not push the gear fully into the slot at this time. Right before the gear is set into the end of the slot, wiggle and/or turn the gear and so it is securely aligned with the gear shaft. Then, push the gear fully into the slot. Make sure the gears are fully seated.
Second, Insert the Free Wheel Gear through the Sub-Shaft.
Always make sure the gears are fully seated before operating. If you forcefully push the gear all the way into the slot without properly aligning them, the gear shaft can get damaged.
Slowly slide the screen housing over the twin gears and push it back.
Firmly tighten (do not over tighten) the butterfly nuts and place the screen housing cover.
Assembly video: