Angel Juicer Juicer 5500, 7500, 8500 and
8500-Gold
Best slow juicer: elegant, efficient, unique in taste
Make cold-pressed juices with the Angel Juicer, considered the best horizontal juicer in the industry.
There are slow juicers and then there is Angel Juicer. This horizontal juicer produces the best cold-pressed juices: uniquely full-bodied and velvety-soft in taste with maximum juice yield and nutrient density. The Angel Juicer emerged as the winner with the highest juice yield in our celery juicing test. Various third party tests showed that the Angel Juicer got up to 40-58% more juice out of various ingredients, up to 17 times more magnesium and 5 times more calcium compared to other juicers. This efficiency pays off in the long term! Especially if you like to make green juices from celery or wheatgrass and use hard ingredients like carrots.
An unrivalled premium juicer that is also made entirely from stainless steel rather than plastic. Another unique selling point that makes the Angel Juicer the best slow juicer.  While the premium quality and the high-end gold version means the Angel Juicers are often referred to as the 'Rolls Royce' among the juicers, we don't think this gives the product enough credit for what sets it apart from the rest of the market.  Not only is the Angel Juicer of exceptional quality and materials, its superior juice yield can make up for the price difference in no time – and we've not even mentioned the health benefits yet.
The Angel Juicer is made entirely of stainless steel and uses the unique 3-phase pressing process, which is recommended among others, in the Gerson therapy. The Angel Juicer is also one of the most powerful slow juicers on the market and can handle the hardest foods. Even different types of needle leaves can be juiced. The use of high-quality stainless steel SUS 304 (Angel Juicer 5500 and 7500) or SUS 316 (8500S) makes the Angel Juicer extremely robust. This makes it perfect for particularly intensive use. Especially for juice cleanses and juice therapies, such as the Gerson therapy, the Angel Juicer is the perfect device due to its high yield and high resilience. Unlike many other TwinGear juicers (meaning it has two instead of one roller), such as the Greenstar Elite, the Angel Juicer features LSCS ™ and MSE ™ technology. This technology enables a much higher yield of vital substances than any other twin gears, single screw or centrifugal juicer. The concentration of Calcium & Magnesium is up to 5 times higher in the Angel Juicer than in any other juicer.  Even hard to press foods such as carrots or beetroot, as well as chlorophyll-containing foods such as wheat grass, herbs, salads, spinach and sprouts can easily be juiced with the Angel Juicer.  The entire juicing attachment consists of only 4 parts making it much easier to clean than many other juicers.  The Angel Juicer is the perfect celery juicer for cleanses such as the one designed by Anthony William.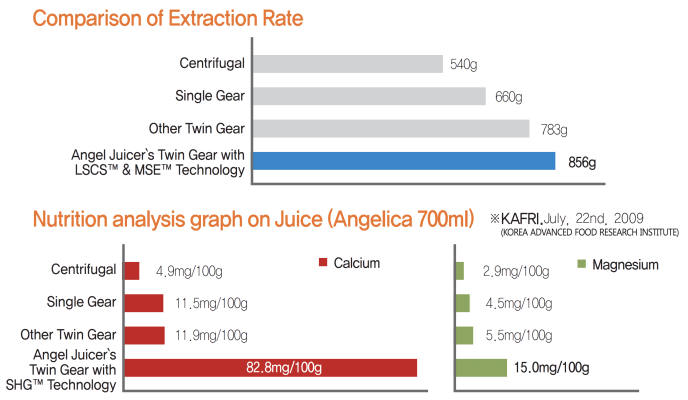 It takes only simple tests for anyone to find out how well it can grind down the ingredients. Finely and evenly ground fibroid material can be visible when pulp is put in a glass of water. How well fibroid material was ground is equivalent to its extraction rate. SHG™ technology applied twin gears grind very finely as seen in image one. The Second picture shows the results when using a plastic and a stainless steel juicer. They simply can't access some of the vital enzymes because the fibroid in the vegetables can't be ground well enough in this old fashioned way. The third picture shows fibroid material you get when using a single gear. You will notice that it is essentially not ground at all.
Technical data of the Angel Juicers:
Juicing method: twin gear
Auger Speed: 82 revolutions per minute
Diameter of feeding chute: 42 mm
Power: 180 watts – NEW VERSION.
Voltage: 220-230V, 50Hz (for UK).
Plug: Detachable cord with standard UK power plug.
Weight: approx. 9.4 kgDimensions: 19.1 x 51.4 cm x 27.7 (width x depth x height) – motor based without attachment is approx. 30 cm deep.
Warranty
Warranty for home use: 5 years on the entire engine block and gears as well as 3 years on any parts and attachments.   Free Upgrade to 5 years warranty on any parts & attachments when you buy directly here on our website.
When used commercially the warranty is limited to 1 year – we recommend a 5 minute break after every 30 minutes.
Extended Warranty: We offer up to 10 years warranty on the Angel Juicer instead of the 5 years as an optional accessory.  Click here for more details.
*IMPORTANT NOTICE REGARDING WARRANTY:
Please avoid Angel Juicer units offered on dubious websites or auction sites without checking the seller with us first (free and fast!) as these units, while genuine Angel Juicer units and offered at the same price as ours, often come from places such as the Middle East and may not even be certified for sale in the UK.  The motor inside the Angel Juicer is different depending on the country it is sold in as countries not only have different voltage but also different Hz.  These pop-up retailers often also do pay UK taxes or recycling fees that we have to pay for each unit we put onto the UK market and often close down 1-3 years of sales to avoid any warranty obligations or they will simply ignore customer enquiries altogether.
We, as importer of Angel Juicer into the UK, are only responsible for units purchased through us or one of our authorised retailers.  You can see from our public reviews on Google, Facebook etc. that customer service is of highest importance to us and as such even for units purchased from an unauthorised source we will always offer free technical advice, offer reasonably priced out-of-warranty repairs as well as any part you may need if you believe you are capable enough to perform a repair yourself. This help is not limited to new units, but also covers units 10+ years old.  We can however not offer free warranty repairs for units that have not been imported by ourselves as we do not get reimbursed by Angel Juicer for these repairs.  Thank you for your understanding.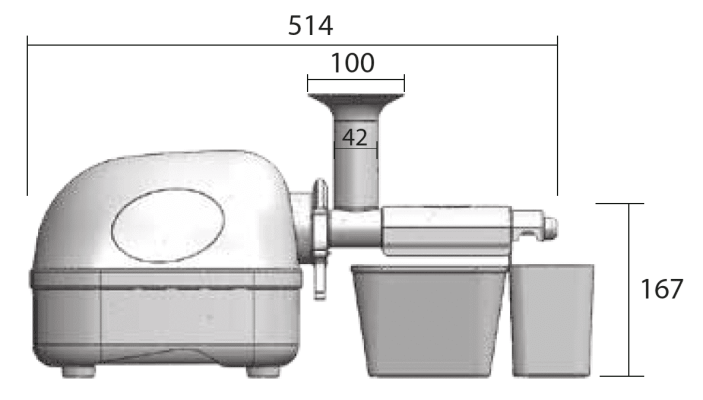 How to choose which model to go for?
Choosing the right model for you is actually fairly straight forward and comes down to just two questions.
Question 1. Do you want an Angel Juicer made from SUS304, SUS316 Stainless Steel or the 24K Gold plated?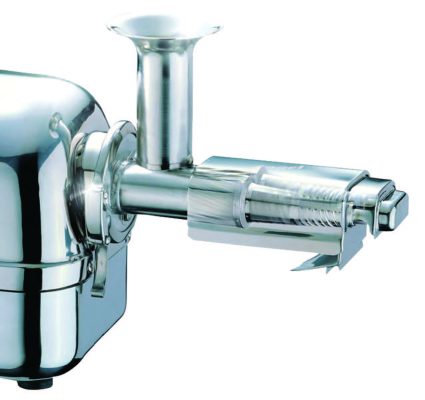 The Angel Juicer is available in two different stainless steel grades; SUS304 (X5CrNiMo17-12-2) and SUS316 (X5CrNi18-10).
Both variants can be described as a type of "rustproof stainless steel".
SUS304 is a stainless steel that is commonly usually used for cutlery and kitchen appliances as it is fairly soft and can easily be pressed into shape.
SUS316 is used for surgical equipment and high end cooking appliances such as professional pots.  SUS316 proves to be harder and more robust against external influences such as acids from fruits.  The SUS316 stainless steel is more resistant to corrosion from salt water than the SUS304 stainless steel. So if you live in a coastal town or in regions with high humidity, we recommend the SUS316 stainless steel.  It is also said that the SUS316 stainless steel is also more resistant to strong acids, which may be beneficial when juicing citrus fruits.  There are also many supposed health benefits of SUS316 over SUS304, but without sufficient empirical evidence, we'll leave that for now.  The SUS316 stainless steel is simply a higher grade stainless steel that is tougher, but as it is less flexible it is also a lot more costly to manufacture.
SUS304 Stainless steel is used for the 5500 and 7500 while SUS316 is used for the Angel Juicer 8500.
So if you want the SUS316 stainless steel, then the Angel Juicer 8500 is the only model for you.
The Angel Juicer 8500 uses SUS316 surgical steel not only for the twin gears (as one might assume) but also for the juicing screen, the screen guard as well as the entire motor housing.
SUS316 – 24K Gold Plated
Of course, if you want to bling up your kitchen with a splash of gold, then the 24K Gold plated Angel Juicer 8500 is the right model for you.  The Angel Juicer 8500 Gold model has been popularised by Gwyneth Paltrow when she revealed her love for the Angel Juicer and placed 'the awesome Angel Juicer' on the Goop Christmas gift guide and stated that it is her favourite kitchen appliance.  The gold version has has gained huge popularity in Russia, the Middle East, Hong Kong and the UK.  In addition to looking fabulous, the main benefit of 24K gold plating is its superior hygiene and anti-corrosion properties. Being one of the less reactive metals, pure gold is known to be more anti-bacterial and hygienic than regular stainless steel.
There are many health benefits associated with gold-plated cutlery and crockery, but as we are not experts in this field we cannot verify these, so please perform your own research on this.  We have pulled together a few key points that you can look into when researching.  According to Ayurveda, dining with gold utensils helps balance all the three doshas of our body – Pitta, Kapha and Vata.
Various health experts and research institutes claim gold plated cutlery and crockery can:
improve memory
improve eyesight
reduces wrinkles, fine lines and the appearance of sun damage
Reduces joint inflammation and disease activity
Prevents acne and inflammation on the skin
It helps lighten skin and reduces age spots
increases the nutritional value of your food
cure respiratory and heart diseases
relax your body and mind
Question 2. Do you want automatic reverse functionality & the MICOM Sensor?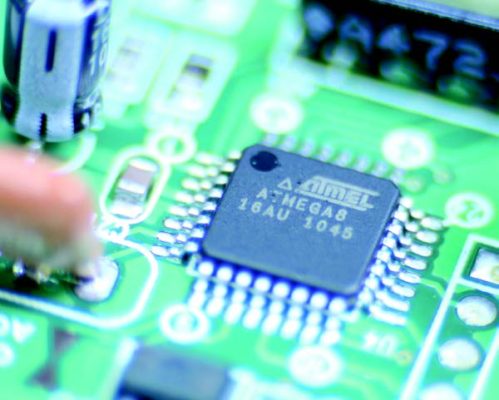 If you decided on the SUS316 stainless steel, then you can skip this question as the Angel Juicer 8500 comes with the MICOM sensor (Artificial Intelligence sensor to aid extraction) and the automatic reverse function.
If you decided that the SUS304 stainless steel is right for you, then you have a choice between the Angel Juicer 5500 and Angel Juicer 7500.  While the Angel Juicer 5500 is the 'entry model', what sets it apart from the Angel Juicer 7500 is that it does not have the MICOM sensor that enables the automated reverse function.  The MICOM senses when the pressure buildup is too great in the juicing chamber and automatically reverses the motor to push the ingredients backwards. On the 5500 the motor would cut out and you would have to press the reverse button for a few seconds so that juicing can recommence.  Ultimately it's a question of budget and necessity.  From our experience, the reverse function only kicks in very rarely as the motor is very strong and the screen is made from 100% stainless steel and as such can withstand a lot more pressure than a plastic screen.  As such, don't feel like you are possibly making the wrong choice going for the entry model Angel Juicer 5500, it's just a little extra convenience for a rare occurrence.
| | | |
| --- | --- | --- |
| | Automatic Reverse | Material of motor and twin gears |
| Angel Juicer 5500 | No, only manual reverse | SUS304 |
| Angel Juicer 7500 | YES | SUS304 |
| Angel Juicer 8500S* | YES | SUS316 |
| Angel Juicer 8500 Gold | YES | SUS316 24K Gold Plated |
*The Angel Juicer 8500 is sometimes also referred to as the 8500S. The S was appended when a new version came out, but the S was eventually dropped again a few years later as it caused confusion.
What's in the box?
Angel Juicer motor block
Twin gear rollers
'Fine' juicing screen (different screens available as accessories)
Juicing screen cover
Wooden tamper
1 litre juice container (made from food-safe plastic)
Pulp collection container (made from food-safe plastic)
Round cleaning brush
Cleaning knife/scraper
Silicone screen seals
Detailed operating instructions
Optionally you can get the following accessories for the Angel Juicer:
– Coarse screen – ideal for soft fruits (such as strawberries) and fruits with a high pulp content
– Mashing screen housing (also known as blank or closed screen) – to make nut butters and sorbets
– Grinding screen (to grind and chop)
– stainless steel juice collecting cup
– plastic juice collecting cup
– different sizes of pulp collecting containers
– glass juice collecting jug with measurement lines
– wooden tamper with silicone ring (particularly useful for soft fruit)
– Flat brush
Angel Juicer Product Highlights:
Maximum juice yield: Thanks to the 3-stage juicing system with twin gear rollers and a powerful motor, an Angel Juicer extracts more juice and nutrients from fruit, vegetables and leafy greens compared to other slow juicers!
Specialist for green juices: The Angel-Juicer-Juicing-Principle is perfect for the production of green juices like celery juice or wheatgrass-shots. Because fibrous ingredients are squeezed down to the "last drop" of juice.
Unique taste: full-bodied, velvety-soft in taste – the Angel Juicer makes the full range of nutrients of fresh, cold-pressed juices taste better than any other juicer!
Made of 100% stainless steel: With the exception of the seals, all parts are made of high-quality stainless steel. This makes the Angel Juicer extremely robust and a long-lasting kitchen appliance.
Quiet: With just 65db is is very quiet during operation
Stainless steel: Entirely made from stainless steel, so there is no risk of hazardous chemicals leaching out from plastic components. The detachable parts can also be put in the dishwasher.
The Angel Juicer has 7 safety features:
– The Angel Juicer can only be put into operation when fully assembled.
– The Angel Juicer has a power switch on the back of the unit.
– The Angel Juicer has a thermostat that prevents overheating.
– The Angel Juicer has a built in clutch that prevents damage to the motor if an unacceptable object lands in the hopper.
– The Angel Juicer is doubly protected against electric shocks by a dedicated main switch to protect the electronics from things such as lightning strikes.
– The Angel Juicer features insulation between the motor and body to eliminate risk of electrical shock
– The Angel Juicer 7500 & 8500S has an automatic reverse function in case of overfilling
About the manufacturer
Angel Juicer is seen by many as the leading slow juice manufacturer. More than 30 years of research and development have gone into the manufacturing of their Angel juicers – including the invention of the highly efficient juicing system with the twin press rollers – also known as twin gear – which goes back to this highly specialised Korean company. Angel Juicer use only high-quality and durable materials including making the horizontal juicer housing, gears and screens entirely of stainless steel, each unit being assembled and quality controlled by hand.
For us, Angel Juicer offers the best slow juicers on the market with the models 5500, 7500 and 8500S.  Anyone who wishes to juice daily and wants to get maximum juice yield and nutrients from fruit, vegetables and leafy greens will find the perfect juicer in an Angel Juicer.
What about the quality of the juice?
Full-bodied, velvety-soft and clear juice.
The juice quality from an Angel Juicer impresses with its uniquely full-bodied taste. An Angel Juicer not only gets the maximum amount of liquid and nutrients out of the ingredients, but also the maximum amount of taste. The juices are so incredibly velvety-soft, have a clear consistency and almost free of foam (pineapple will always produce foam due to the nature of the fruit). Mixed juices made from leafy greens, vegetables and a small amount of fruit taste simply fantastic.
The supreme discipline of clear green juices
The Angel Juicers are exceptionally excellent machines when comes to making green juices. Fibrous leafy greens such as wheatgrass or wild herbs are quickly drawn in and squeezed to the last drop. The Angel Juicer works so highly efficiently with its twin press rollers made of stainless steel that its investment pays off in the long term. Because significantly fewer ingredients are required for the same amount of juice than when producing juice with other slow juicers.
Clear vegetable and / or fruit juices
Another strength of the Angel Juicer is the juicing of hard ingredients such as B. carrots or firm apples. Here, too, the Angel Juicer gets the maximum juice and taste out of fruit and vegetables.  Of course, soft ingredients such as ripe pears, pineapple, a piece of lemon or orange can also be juiced in the Angel Juicer. We recommend juicing soft ingredients alternately with hard ingredients so that there is no build-up of liquid.
Fruit juices made from soft ingredients
If you would like to make pure pineapple juice or a mixed juice from soft, overripe fruit, you need the wooden pusher with silicone ring. This ensures that there is no backlog of liquid when juicing soft ingredients.
Thicker juices with the coarse sieve
Even if the Angel Juicer is known for clear juices, you can also use it to make thicker juices with a kind of smoothie consistency. However, this is only possible with the coarse sieve, which is not included in the standard scope of delivery. For thick juices z. B. particularly good soft ingredients or overripe banana and pears.
Ginger and / or turmeric shots
The Angel Juicer is perfect for making ginger or turmeric shots. For this purpose, it is used in juice bars because it squeezes the tubers to the maximum and enables a clear juice without residues.
Fresh sauerkraut juice
Probiotic foods like fresh sauerkraut can be a bit much for the tastebuds of some people. The solution: Simply add a portion of sauerkraut in combination with spinach, cucumber and a little lemon to the Angel Juicer. The Angel Juicer can not only juice sauerkraut thinly and clearly, but also allows its taste to develop extremely mild making for an exceptionally healthy drink.
Is the Angel Juicer suitable for making celery juice?
In the celery juice juicer test performed by Grüne Smoothies GmbH, Berlin, 8/2019, the Angel Juicer with the highest juice yield emerged as the clear winner. With an average of 402ml, the Angel Juicer got the most juice out of 500g of celery and is the most efficient way of juicing healthy vegetables. In addition, the celery juice from the Angel Juicer is not only fibre-free, it also tastes uniquely full-bodied and soft.
If you drink large quantities of freshly squeezed celery juice every day, buying the Angel Juicer will pay off in the long term. Because no slow juicer can produce 100ml of celery juice as cheaply as an Angel Juicer!
Other than juice, what else can I make?
The Angel Juicer can not only be used for the production of cold-pressed juices. Further options become available with the use of different screens that are available as optional accessories:
Mashing screen for making purees, baby food, sorbets from frozen fruits, hummus and salsas or sauces.
Grinding screen for making nut butters from cashews, peanuts and much more.
Operation and handling of the Angel Juicer
The Angel Juicer is easy to assemble. All in all, there are only 4 parts – twin gears , screen housing, feed chute and the screen cover – have to be put together. The feed chute has a diameter of 4.3 cm – accordingly, the ingredients have to be cut a little smaller than this.
There is a power switch on the back of the Angel Juicer, which is used to put the device into stand-by mode. The control panel with the 3 functions (start, stop and reverse) is to the right-hand side of the machine. Simply press the start button to start juicing. Now feed the juice ingredients into the chute and gently press the pusher/plunger towards the press rollers. In a 3-stage process, the ingredients are now crushed, mixed and pressed. The juice exits directly into the juice jug below the sieve housing, while the pomace is ejected into the pomace collection container at the front.
The juicing process is finished when all the ingredients have come out in the form of pulp and no more juice drips out of the juice outlet. Now switch the control panel to stop and turn off the unit using the power switch.
Tip: It is best to let the Angel Juicer run a little longer, as there will still be a few drops of juice, even if no more pulp comes out.
When the Angel Juicer is blocked
It is possible that the Angel Juicer's safety sensor interrupts the juicing process because the press rollers are blocked. This could happen if a hard foreign object (cutlery, etc.) accidentally lands in the juicer. The slow juicer will then stop by itself and beep. The blockage is now easily released with the reverse function.
While the reverse function has to be initiated manually on the Angel Juicer 5500, it kicks in automatically on the Angel Juicer 7500 and Angel Juicer 8500S. The twin press rollers now rotate backwards. The blockage has been resolved. Now the juicing process has to be started again with the start button.
Cleaning the Angel Juicer
The Angel Juicer is best cleaned immediately after use. This prevents the juice residues from drying out and the individual parts can be rinsed easily directly under lukewarm water. To do this, the Angel Juicer is disassembled. Before you clean the screen, feed chute, press rollers and screen cover under running water, the first step is to roughly remove the pulp residues directly into your organic waste bin. This prevents the drain in the sink from clogging. To clean the sieve, use the scraper to better remove possible fibre residues from fruit, vegetables and green leaves. Then you clean all parts with the cleaning brush provided. For the feeding chute, we recommend that you use a round cleaning brush as found in most households. Finally, dry off the juicer parts with a kitchen towel and reassemble the Angel Juicer. Rinse the juice container and pulp container well and dry them.
Since the stainless steel parts of the Angel Juicer are dishwasher safe, you can also clean them in the dishwasher. We recommend cleaning in the dishwasher as an occasional thorough cleaning. Before doing this, you should still quickly rinse off all components by hand and remove any coarse pulp residue.
Recommended accessories for the Angel Juicer
Angel Juicer coarse screen for juices made from soft ingredients
The Angel Juicer is always delivered with a fine screen, which is perfect for most applications. However, if you also drink pure juices made from soft ingredients, i.e. without adding hard ingredients such as carrots, celery or beetroot, we greatly suggest also getting the coarse screen, otherwise there will be too much backlog when juicing. As a rule of thumb for what is soft and what is hard, everything that you can easily crush in your hand is considered a soft ingredient: This includes, for example, pineapple, bananas, mango, tomatoes, kiwi fruit, etc. Carrots are considered to be hard ingredients, as are beetroot, leafy greens, celery, etc.
Angel Juicer wooden pusher with silicone ring
You can use it to make clear juices very easily from soft ingredients and overripe fruit. Thanks to the silicone ring on the wooden pusher, the ingredients are moved to the press rollers with help of the air pressure created by the seal, which very effectively prevents the pressurised ingredients from backing up or liquid overflowing from the feed chute. But be careful: don't press too hard, otherwise the juice will drip out of the device. With us, the wooden pusher with silicone ring is included with every Angel Juicer.